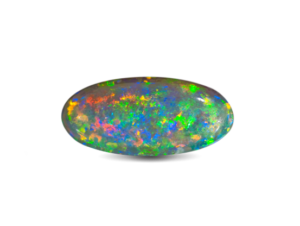 I love opal! It's a beautiful stone that has rainbow strains throughout it and no two opals are the same. The most common type of opal, called precious opal, has a play of color, which means that the stones flash different colors when you look at them in different light or angles. Precious opal ranges from clear through white, gray, red, orange, yellow, green, blue, magenta, rose, pink, slate, olive, brown, and black. Of these colors, the black opals are the most rare, while white and greens are the most common.
Other types of opal are fire opal, which has red, orange, and yellow hues with an occasional flash of green; Peruvian opal, which is referred to as blue opal because of its blue-green hue; and resin opal, which is honey-colored and has a resin-like luster to it. There are several other varieties of opal that are found all over the world and in many different scenarios to create the differences between them.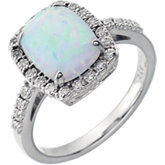 Opal rings are very unique and have the same color flashes that we love in diamonds, but are, of course, much less expensive than a typical diamond ring. Most opal rings that are popular right now place precious opal as the center diamond and have it surrounded by diamonds in a halo or 3-stone display. In addition, large opal are inexpensive and comfortable to wear because they are relatively low in density, making them lighter than most gems.
Trust a Professional to help with your decision.
We do NOT charge you an additional fee to simply review your ideas. We will review your ideas and designs for free.
1 Carat Engagement Rings Moments Jewelry Layton Utah 801-633-3242