A diamond cut is a style or design guide used when shaping a diamond for polishing such as the emerald cut. Cut does not refer to shape, but the symmetry, proportioning and polish of a diamond.
The cut of a diamond greatly affects a diamond's brilliance.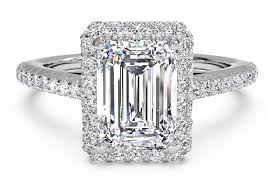 Things to Know about Emerald Cut Diamond Rings!
– Emerald Cut diamonds have a surface area that is slightly larger than a traditional round cut diamond.
This makes the appearance of the diamond bigger!
– Emerald cut diamonds are rare, you won't see many compared to a princess cut diamond. However, the Emerald cut diamond is less in demand. Therefore, you should be able to save some money with this diamond cut!
– Beware! You can see imperfections and flaws more clearly in an Emerald cut diamond than you would with a round cut diamond. Consider purchasing a SI1 stone or better to avoid seeing any inclusions.
– Emerald cut diamonds do sparkle, however the sparkle is more subtle. The corner edges of a properly Emerald cut diamond should have plenty of sparkle!
-While less fiery, the long lines and dramatic flashes of light give the emerald cut an elegant appeal. The shape was originally developed for the cutting of emeralds, thus the name. The Emerald cut diamond will give your finger the appearance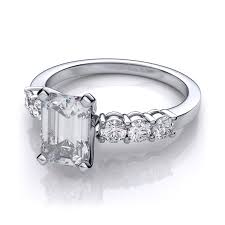 Not every jeweler offers the level of customization that you're looking for. Moments Build Memories offers fully customizable engagement rings at competitive prices. So when you open the box, you both get what you want.
Visit http://MomentsBuildMemories.com Today!