With a broad appeal of beauty, floral ring designs are very diverse and can easily be adapted towards your preferences.


If you are someone who finds traditional wedding ring designs predictable and cliché, rose shaped engagement rings are great alternatives that offer a unique and classic look.
Besides that, floral engagement rings also offer a practical benefit of being less money!
Here's why; the cost of an engagement ring is predominantly determined by the main center stone. Since a flower diamond ring emphasizes on the overall outlook instead of a single stone, it enables you to opt for a smaller and less expensive center stone. That's great!
The flower-shaped ring features a cluster setting of round cut diamonds.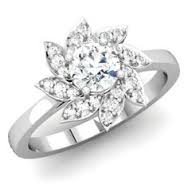 Trust a Professional to help with your decision.
We do NOT charge you an additional fee to simply review your ideas. We will review your ideas and designs for free.
1 Carat Engagement Rings Moments Jewelry Layton Utah 801-633-3242